Each Query runs against specific Subjects. It is not possible to change an existing Query so it will run against different Subjects.
To select a Subject, Click on the Subject Combo box button to reveal a list of Subjects belonging to the System you chose in the previous screen. In the drop down list, click on the name of the Subject you wish to use.
You can also type part of the name of the Subject you are looking for into the Subject Combo box itself. This will filter the Subject in the Subject Combo box down to just those which match the string you have typed.
Alternatively, if your system contains a lot of subjects, you can use the Subject Explorer to select a subject by pressing the subject explorer button.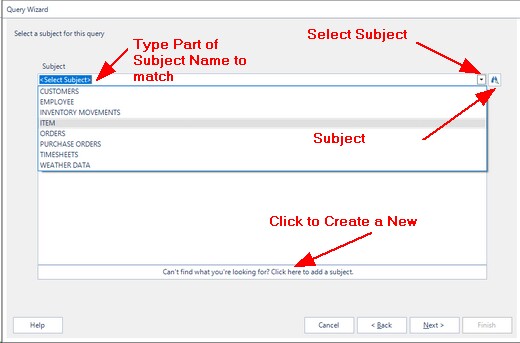 Once you have chosen a Subject, click on 'Next >' to move on to the next step, the Query Wizard - Define Filter Conditions form.
Click on '< Back' to return to the Query Wizard - Select System form, or click on 'Cancel' to leave the Query Wizard without saving your changes.