Each query runs against a System, and so you need to define which System that is.
To select a System click on the System Combo box button to reveal a drop down list of the Systems that are available to you, then click on the name of the appropriate System.
If the System has a description, it will be displayed in the list view underneath the combo box.
This form only appears when you first Create a Query. You can not change the System that an existing Query runs against.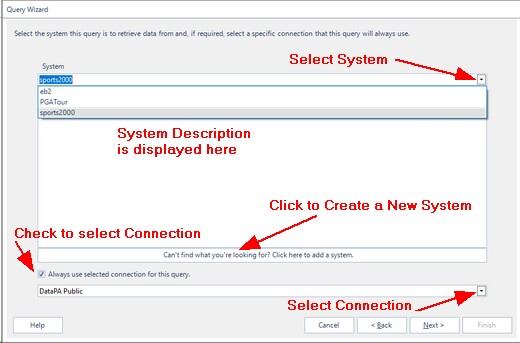 If the system you want is not displayed then click on "Click here to add a System' to open the System Wizard - Introduction
If the system selected has more than one connection set up for it then the 'Always use selected connection for this query' check box will appear below the System Description.
If the you check this check box then a drop down list of the connections that are available to you for the selected system will appear. If you select a connection here then the selected connection will ALWAYS be used regardless of what the default or current connection is.
Click on the 'Next >' button to move on to the Query Wizard - Select Subject form.
Click on '< Back' to return to the Query Wizard - Name and Description form, or click on Cancel at any time to leave the Query Wizard without saving your changes.