The Query Wizard allows you to define Filter Conditions so you can narrow down the range of data that your Query will extract from the application database.
If you do not wish to build any Filter Conditions into your Query, simply click on 'Next >' to move to the Query Wizard - Select Fields form.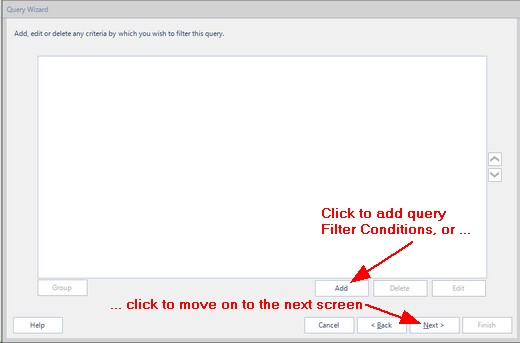 To Add Filter conditions click on 'Add' and the Query Conditions form will open up.
If you wish to Edit or Delete any of your Query Conditions, select the condition by clicking on it in the list view. Then click on either the Edit button or the Delete button. If you click on the Edit button, this will open the Query Condition form.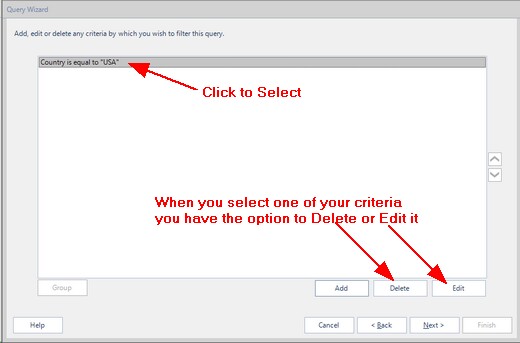 Where you have multiple conditions, especially combinations of 'AND' and 'OR' conditions, it is possible to add parenthesis to group certain conditions together, by using the 'Group' button.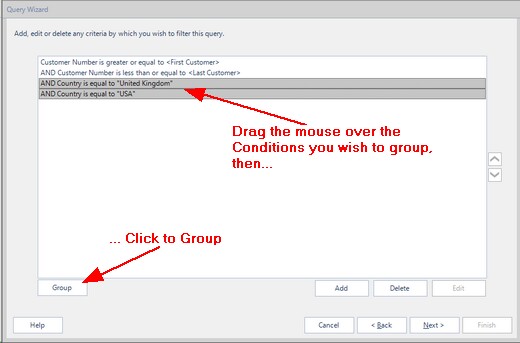 Drag the mouse over the required conditions to select them, and then click on the 'Group' button. Parenthesis (Brackets) will then be placed around the selected conditions. To Remove the parenthesis, select the grouped fields and click on the 'Ungroup' button.