The Import / Export Wizard - Select System form lets you define which System the Links belongs to.
Click on the Combo box button to see a list of available Systems, and then click on the name of the appropriate System to select it.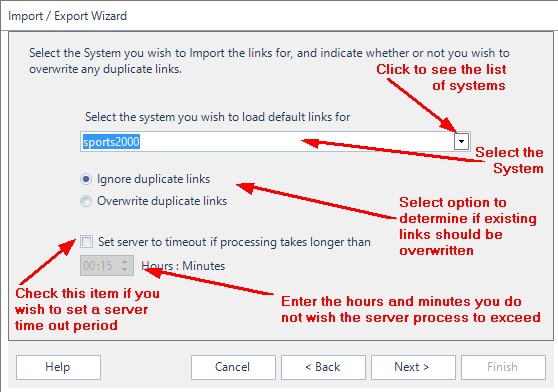 You can also set two properties that will affect the behaviour of the load process ...
•

If you wish any existing links to be overwritten if a duplicate is loaded, select "Overwrite duplicate links".

Otherwise select "Ignore duplicate links.
•

Some systems contain many thousand default links. As such it may take some time to load these links, and once the server has started you cannot interrupt the process without shutting down the AppServer.

To avoid the Load Default Links process taking too long you can set a timeout period. If the server process reaches the timeout period, it will terminate and no links will be loaded.

To set a server timeout period, check the "Set Server timeout" checkbox, then enter the number of minutes you do not wish the server process to exceed.
Once you have selected the System, click on the 'Next >' button to move on to the Load Default Links Wizard - Select Tables form.
Click on the '< Back' button to return to the Load Default Links Wizard - Introduction form.
Click on the 'Cancel' button at any time to leave the Load Default Links Wizard and return to DataPA Analytics Engine without saving any changes.