The Lookup Wizard - Select System form allows you to choose which system you are creating a lookup for. The System combo box is only enabled if this is a new Lookup, as it is not possible to transfer existing Lookups between systems.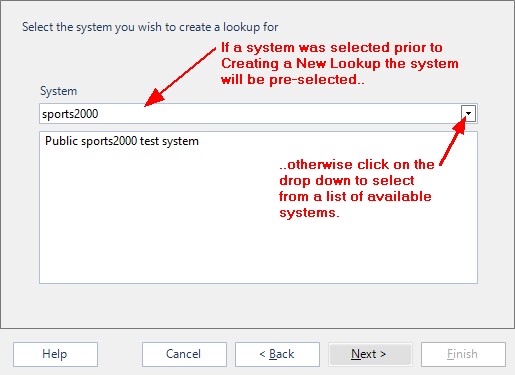 Once you have chosen a system using the drop down combo, its name will be displayed in the list view underneath. If you are not already connected to the chosen System, DataPA will display a message letting you know that it is now connecting.
In order to build a lookup DataPA needs to read the database structure of the connected business application. This can take a significant amount of time if the business application is complex. To improve performance, DataPA stores the database structure on the client. If you know the structure has changed, tick the Update database structure check box to force DataPA to read the database from the server.
Click on the 'Next >' button to go continue to the Lookup Wizard - Select Table form. Click on the 'Cancel' button at any time to leave the Lookup Wizard without saving any changes. Click on the '< Back' button at any time to step back and review your work.