Share insight with a
single click
DataPA Enterprise is a server application that allows mobile and browser based access to your live business intelligence. With a simple one-click process, any authenticated user can publish content to the server allowing colleagues anywhere in the world instant access.
Live Interactive dashboards,
anywhere
Create visually stunning, interactive dashboards, and publish them in minutes.
Colleagues, partners, suppliers and customers can filter, drill down even refresh the live data instantly from a browser.  
With DataPA OpenAnalytics, creating stunning content that offers real insight into your business is a task anyone can learn to complete in minutes. Shared securely across the internet with a simple login process, these dashboards and reports give your collegues, partners and customers the insight they need anywhere, instantly.

We've made it so easy to embed a dashboard into your website.
Stay in touch with your data anywhere, anytime
DataPA Enterprise delivers live intelligence anywhere, anytime with dedicated mobile apps. With a simple to navigate, touch friendly interface the mobile apps harness the power of modern mobile platforms to deliver rich live content to users on the run.
See what is happening with your organisation in real time, anywhere with live, interactive dashboards created by business users and beautifully rendered on your mobile or tablet device.
Filter and drill into millions of rows in seconds
The analytics engine behind DataPA Enterprise employs a hybrid approach to providing real time analytics, even on the largest data sets.

By blending live data drawn from the operational database with historical data where necessary, and employing an early summary strategy, DataPA OpenAnalytics is able to provide responsive dashboards across the web, even when those dashboards are built on millions of rows.
Intelligent alerts, delivered anywhere
Imagine if your staff knew immediately when anything important happened. They were able to sense when a large order was placed, waiting time exceeded a threshold, a database was compromised or currencies shifted in the company's favour.
With DataPA Enterprise you can create
intelligent alerts
to notify anyone of any business event, anywhere at any time.
Collaborate with colleagues anywhere, any time
With a simple few clicks, colleagues can remotely watch on any modern device, as you explore and discover intelligence with any published dashboard.

More than simple screen sharing, collaboration with DataPA OpenAnalytics allows any participant to break away from the collaboration session at any point, and explore the dashboard on their own.
Don't just take our word for it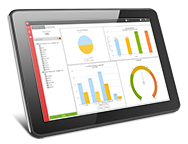 See it live
Seeing is believing. There's a live demo version of DataPA Enterprise available from the link below.
Visit Enterprise site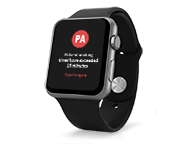 Let us show you
Contact us if you would like a live, online demonstration of DataPA OpenAnalytics.

We'll be happy to talk you through exactly how our product will meet your needs.
Contact us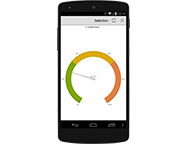 Embedded in your app
Want to embed dashboards in your website?

It couldn't be easier
Check out this example